10 Feb

Adell in the kitchen: Coconut Curried Lobster & Butternut Squash Soup!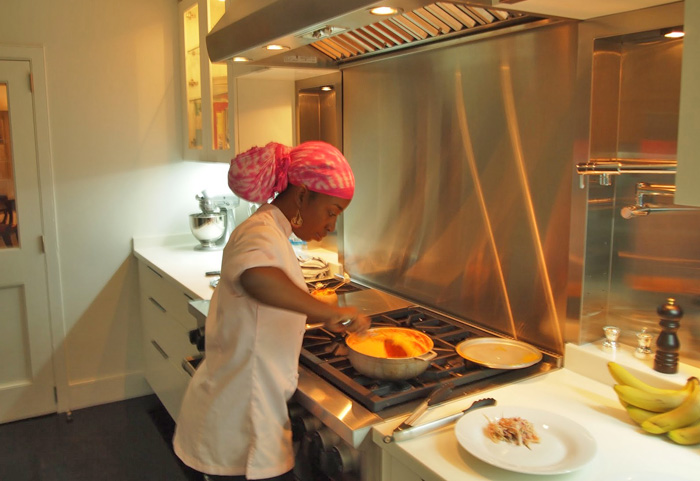 I love cooking in new kitchens almost as much as I love meeting new people. The home last night was  JAVA HOUSE, a beautiful home with an entertainment room, additional cottage, pool and best of all a fabulous kitchen!
The layout was perfect. I love the faucet pictured here right of the stove mounted on the wall above the pepper grinder. It was perfectly placed and I actually used it earlier that night when preparing pasta for the kids.

Check out the Sub Zero refrigerator and the 'over the top' espresso maker! No wonder they call the place Java House.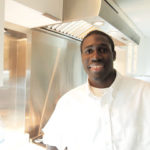 My assistant for tonight was Johnathan the Intern! He's shadowing us for 6 months before he leaves for culinary school.
The menu on this particular night had a curried lobster & roasted butternut squash soup as a starter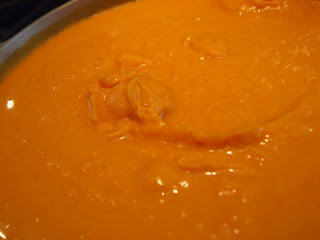 I took several halved butternut squash, took out the icky stuff inside, and drizzled with a bit of olive oil.  They were roasted on 400 until they were thoroughly cooked.  Once they had cooled I spooned the squash from the peel into a sizable pot.  I used an immersion blender, which Bish calls a jusher, to puree the mixture.  I then added 3 cups of vegetable stock and a 1/2 cup of heavy whipping cream.  The final touch was a bit of salt and pepper to taste…done!
The lobster was pretty simple.  I just tossed it in some olive oil, salt, pepper and curry powder.  I then cooked it up and skewered it once done.  There you have it!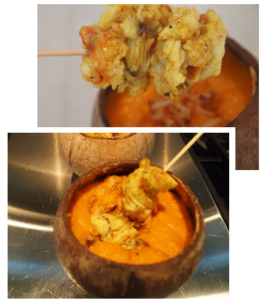 The main course was also quick and easy.  Some lightly jerked shrimp with a little honey added was served on top of my super fabulous slaw that is to die for.  That recipe may be revealed in a later post.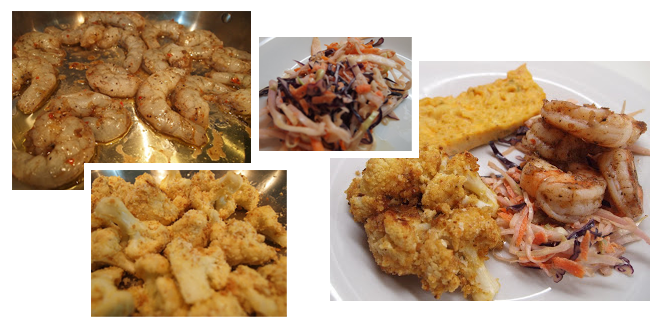 The night's vegetable of choice was the Dijon and Parmesan roasted Cauliflower. Yum! The finished product!  Thanks Java House for a great kitchen experience.