12 Feb

Kiddie party planning, Island style.

The thing about planning a birthday party worthy of little Ms. Ayden, is making sure you take note of all the little details without robbing the bank! I know her birthday isn't until August but when living on an island, there are a ton of things that are simply not here. Also, having a theme in advance allows you to pick up little things along the way at great prices. I love planning her parties so much I couldn't resist giving you the run down on at least the last two years.

Ayden's 5th Birthday party was the first party she had when we moved here. This was a big party because there is something special about that 5th year. You know, big girl now…first day of school etc., so we decided 15 kids would be the number allowed. We went with an Alice in Wonderland Theme.

 

I ordered a few items from
Oriental Trading Company
, like the flamingos, the large playing cards and a mad hatter hat and turned the back yard into a mini wonderland.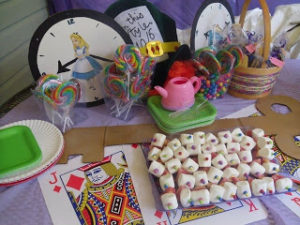 Ayden and I had fun weekend projects leading up to the party. We made giant keys out of card board and sprayed them gold. We also made the giant clock with Alice in the middle. For munchies we had fluffernutter sandwiches, marshmallow fruit kebabs and chicken nuggets.
I always try to have something different for the kids to do every 15 minutes at the party and it usually goes something like this; Arrival, craft 1, craft 2, game 1, game 2, food, cake cutting, gifts and goodbyes! I squeeze in photos along the way. This way the party lasts 2 hours and then the kids are gone!  At this party, we had a mad hatter table for craft 1 and a tea cup painting table for craft 2.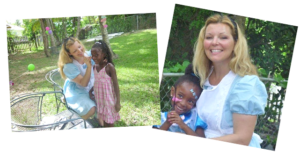 I also found an Alice dress, long after Halloween, for the face painter to wear. Ayden wore the mini version, beats trying to find the right party outfit!
This time I ordered a cupcake suite from one of my favorite bakeries in Nassau called Something's Different. I sent them photos in advance of Wonderland cake ideas and they created a masterpiece! The mushroom cupcakes were my idea!
Nana always gets Ayden's cake for her. Thanks Nana!
Ayden's 6th was a Pink Spa Day party. I got my inspiration for the party from two rolls of duct tape I found at Walmart. I had them stashed in my party bin and had no real use for them until then. On Habour Island, we get around by golf cart so I covered the whole thing in the duct tape, streamers and balloons! Ayden got all dolled up courtesy of a Children's Place online sale and we were off to pick up the 6 guests for her 6th birthday spa day.
We headed over to Toya's Beauty Salon where the girls had a mini makeover! They got hair and nails done.
I grabbed a bottle of apple cider, 6 champagne flutes and some fruit. Voila! We continued on with the pink theme and headed over to the Pink Sands Hotel where we had lunch, and a little birthday cake compliments of Nana!
This year Ayden turns 7 on the 7th and wants to be a rock star! Let's see what I can pull out of my magic mommy bag for that one.