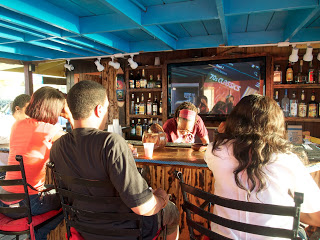 04 Feb

Harbour Island: Beyond the Reef

Here is the deal. I'm not a lush by far but two years ago I became interested in drinks, libations, al-co-MA-hol! The reason this started two years ago is because this is when I decided to call Harbour Island home again. Thus began my cocktail and wine education. There are a few fabulous spots on Harbour Island where you can get great cocktails. Some of these places are posh and sophisticated, while others are really simple and laid back. This is one of those spots.

This place is a simple open bar overlooking the harbour, called Beyond the Reef. It's located on Bay Street, down in da bottom (that just means the northern area of Bay Street on Harbour Island).
Beyond the reef is known for its Goombay Smash! Just ask my girl Brittany to 'hook you up with one a dem' and she will 'get you right'!
Did I mention they also have live music and karaoke on occasion? Even if you don't visit on one of those evenings, be sure to stop by for your drinks at sunset.  Beyond the reef is my top pick for a laid back native style sunset drink on the bay.